Our Values
Bensonwood designs buildings that matter — to us, to building professionals, to homeowners. Our ultra-precise offsite fabrication makes the entire process not only fast but as low-stress and seamless as possible. Our dedicated team enjoys working on projects of every size and collaborating with homeowners, architects, general contractors and others to make vibrant, lasting, healthy buildings.
High Performance
Every home we build impacts the planet – from the materials and energy used during construction to the energy used for heating and cooling. The most sustainable, long-lasting buildings should evolve with the changing needs of their occupants. Our homes are designed to be flexible enough to adapt to your changing needs. And, because we believe the future is electric, all of our homes are, too. Because our homes are so efficient, achieving net zero operation is much easier with a Bensonwood home than a home built with traditional construction methods.
Capability of building to net zero and passive house standards.
Use bio-based, non-toxic, and low embodied energy materials.
Minimize material waste and donate, compost, or repurpose by-product, such as for heating and cooling.
Support sustainable forestry management.
Avoid materials identified on the LBC Red List in our homes.
Our all-electric homes do not rely on fossil fuels.
Comfort and Health
Bensonwood's air-tight, super-insulated enclosure provides superior thermal, atmospheric, and acoustic control. Through careful insulation and construction techniques, Bensonwood aims to eliminate cold spots and drafts, ensuring consistent thermal comfort throughout the home. Thoughtful layouts and use of organic materials promote a sense of calm and well-being.
Triple-glazed windows and thick, super-insulated walls provide consistent indoor temperatures all year long and reduce noise transmission for quiet interiors.
Energy/heat recovery air ventilation provides a constant flow of fresh, filtered air to the interior – especially important when outside air quality is poor.
Non-toxic bio-based cellulose insulation is fire, pest, and mold resistant.
Durable natural, low or no-VOC, and LBC Red List-free materials.
Legacy
We believe that homes should be built to stand for many generations. We learn from and expand upon traditional building techniques used for hundreds of years by craftsmen in North America, Europe, and Asia. Applying cutting edge technology to centuries old building techniques, we ensure that your home endures and continues your legacy.
Mechanical and electrical systems are disentangled from structural components making replacements and upgrades easy.
Precision building using cutting edge technology combined with the craftsmanship and quality of centuries-old timber frame techniques.
Our OpenBuilt system separates different layers of the home, allowing for superior adaptability and durability.
Future proofed for climate change, we utilize renewable and passive energy strategies instead of fossil fuels.
Predictability
Much of the construction work for a Bensonwood home is done in a controlled environment at our factory in Keene, New Hampshire. This setting allows for higher quality control and reduces the likelihood of weather-related delays or issues commonly faced in on-site construction. Advanced technology and precision engineering create detailed 3D models that connect directly with our CNC machinery with the goal of minimizing errors and unexpected changes during construction.
Our team builds the shells of our buildings and travels to site for the installation process, reducing the need for subcontracted labor.
Our in-house team is comprised of designers, engineers, estimators, project managers and more, all working together to coordinate a smooth process that is on track and on budget.
Our team is in close communication with clients throughout the design and construction process. Regular updates, progress reports, and opportunities for client input help ensure that expectations are met.
Before components are shipped to the construction site, they undergo rigorous quality checks to ensure they meet the highest standards.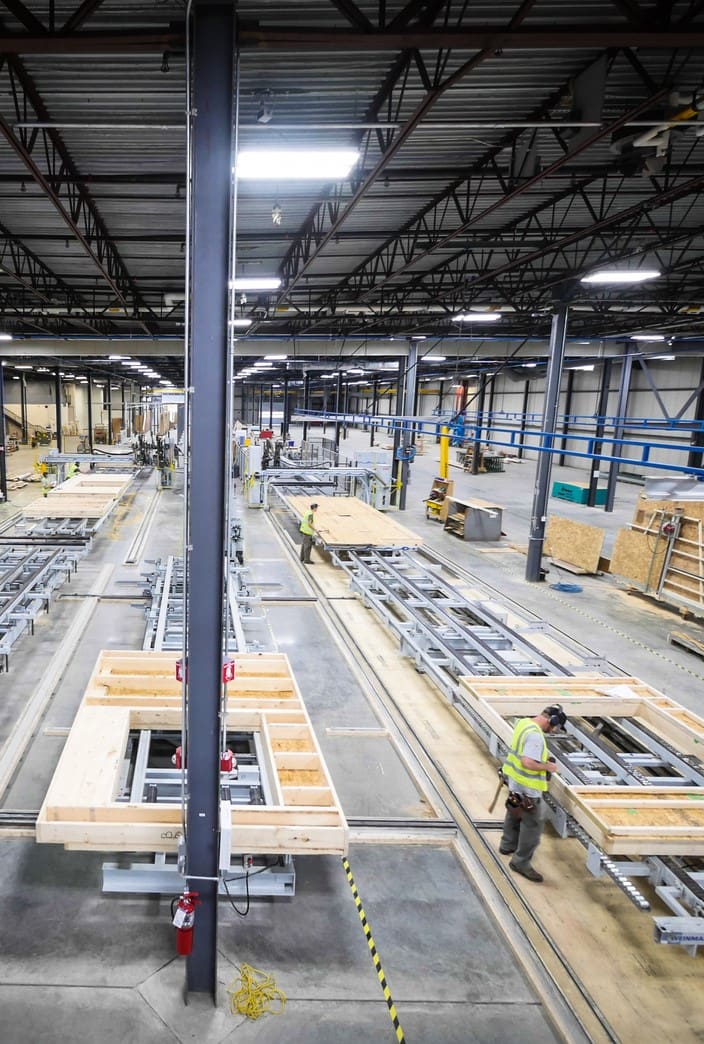 Client focus
At Bensonwood, we prioritize our client-centric approach. We offer home designs that can be customized giving you flexibility to make adjustments according to your preferences. We uphold transparent pricing structures, providing detailed cost breakdowns to eliminate any hidden fees or surprises. We hold long-term relationships with our clients in high regard, and you and your homes remain important to us long after your move-in date.
No pressure sales with honesty and transparency. We want what is mutually best for all of us.
We aim to educate our clients about the building process, materials, and technologies we recommend. You'll be able to make informed decisions about your choices.
In-house cost estimation reduces pricing surprises and increases budget transparency.
We will continue to support you even after the completion of your project, providing guidance on home maintenance, energy efficiency, and any additional services or modifications that may be required.

"Bensonwood has long been a national leader in timber frame structures and has, over some 40 years, ushered in advanced technology, sophisticated materials, lean manufacturing processes and remarkable tooling to produce some of the most energy efficient, tightly built and customized homes available."
— Terrence Williams, Keene Sentinel